Where
We are at CEU San Pablo University, Montepríncipe Campus. Boadilla del Monte, Madrid · Open in Google Maps.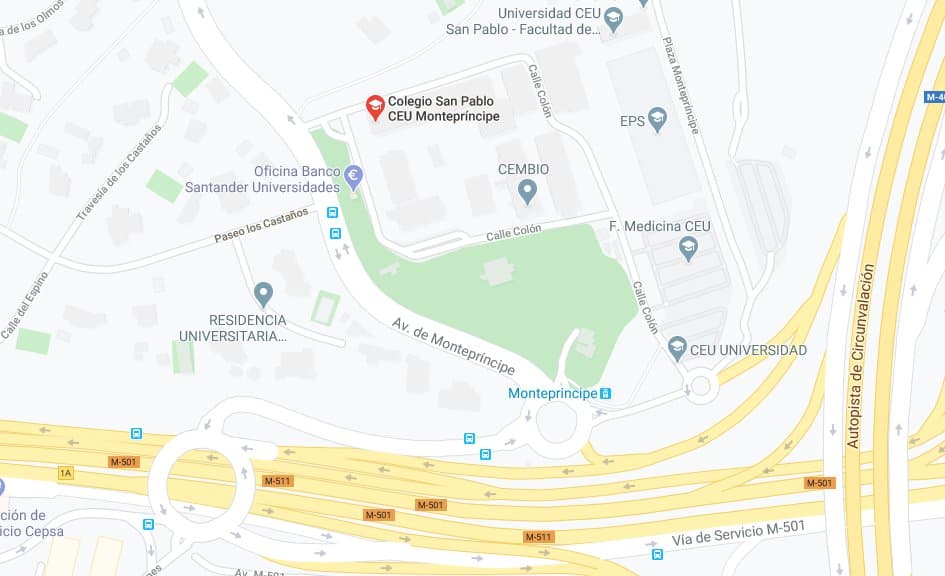 How to get there
You can use public transport, taxi, car, or any of the free shuttles that the organization provides during the event. Because the parking space is limited, we recommend not to go by car and to use public transport, which is surprisingly simple.
Free shuttles
We provide a free shuttle service connecting to Plaza de España that takes 20 minutes for a one-way trip. We have adjusted the schedule according to our experience, but we cannot guarantee seats for everyone. We will publish the timetable on our blog when event dates get closer.
Is there a cloakroom?
We have supervised storage for your coat, helmet, or suitcase. However, neither Commit nor the University are responsible for your belongings.
Credentials
We are strict when controlling access to the talks. At the registration desk, we give you:
A badge: You must wear it at all times, and show it when requested by the organization. Without your badge, you will not be allowed access to any session. If you want to use the same ticket for a different person the second day of the event, go to the info point before leaving on Friday, and we will cut your badge and give you another for the second day.
Registration and access control
We use an access control app to verify your ticket. You only have to bring your ticket, printed or in your cell phone.
I will arrive later, or during the second day. How do I register?
The agenda specifies the official registration times, but you can register later at the Info Point in the main hall. The same ticket is valid for Friday and Saturday, you just need to wear your badge and wristband both days.
Should I bring my laptop?
It is not necessary. In any case, it may be useful to take notes or review the speaker slides during a talk.
What do I need to attend a talk or open space?
Each speaker documents their sessions requirements on their slot description in the agenda.